Female composers have often struggled for recognition, so Bath Symphony Orchestra is pleased to feature two of them in this British programme.  Grace Williams was a Welsh composer and Penillion refers to the ancient song tradition in Wales.  Ruth Gipps wrote her lyrical but challenging Horn Concerto for her son, Lance Baker. We are delighted to welcome the talented young horn player Annemarie Federle as our soloist.  Both Grace Williams and Ruth Gipps studied with Vaughan Williams and we end our programme with his A London Symphony, atmospherically evoking the misty River Thames, street songs and Westminster chimes.
Our soloist Annemarie Federle was appointed Principal Horn of the London Philharmonic Orchestra in 2023.
In May 2022, Annemarie stepped in at short notice to perform Oliver Knussen's Horn Concerto with the LPO at the Royal Festival Hall, conducted by Edward Gardner. In the same year, she performed at the Ryedale Festival and recorded chamber music with Three World Records. Other highlights include winning joint first prize at the Gianni Bergamo Classic Music Award in 2021, and performing Mozart's Horn Concerto No. 4 with the Munich Chamber Orchestra at the ARD International Music Competition. This season she performs concertos and recitals across the UK and Europe including at the KKL Lucerne.
Annemarie has enjoyed freelancing orchestrally across the UK, appearing as guest principal with the London Symphony, Royal Philharmonic, Philharmonia and BBC Scottish Symphony orchestras. In October 2022 she was appointed as Principal Horn of the Aurora Orchestra, before joining the LPO in the same position in January 2023. Annemarie also regularly takes part in recording sessions, playing on soundtracks for films and TV series.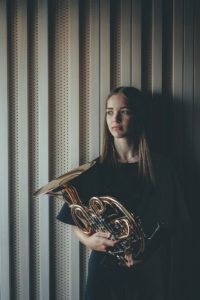 At the age of seventeen, Annemarie won the Brass Category Final of the 2020 BBC Young Musician competition. She went on to secure a place at the Final at Bridgewater Hall, where she performed Ruth Gipps' Horn Concerto with the BBC Philharmonic Orchestra conducted by Mark Wigglesworth, broadcast on BBC Radio 3 and BBC 4 TV.
Originally from Cambridge, Annemarie studies the French horn at the Royal Academy of Music with David Pyatt, Richard Watkins, Michael Thompson and Martin Owen.